It's never too late to look back at the best there was last year. After all, board games have a certain immortality to them. Even in 2015, these are five of the best games you can play.
Dog and Thimble didn't exist in 2014, but that's not going to stop me from crafting our first ever Top Five list. These are the best of the best games that came out last year.
The criteria was pretty simple:
Be amazing
Be something I'm always happy to see brought to the table
Have a shelf life beyond 2014
5. Dead of Winter
Plaidhat Games is on a hot streak. The small publisher is one of the most reliable. You can just trust what they release is going to be golden. And Dead of Winter might be their best yet.
A cooperative survival game (with potential betrayer), Dead of Winter feels a lot like The Walking Dead. Sure, there are zombies to worry about, but the real threat is often the other survivors. As a harsh winter settles in on your camp, you must send your survivors to forage for supplies to deal with unexpected crises.
What makes Dead of Winter stand out from other zombie board games are Crossroad cards. Drawn in secret each turn by the player to your left, these cards may activate based on your actions. Each card tells a story and almost all offer a choice. Usually it's a choice between something bad and something worse. It's the narrative these tough moral quandaries create that will have you talking about Dead of Winter long after you've slipped the board back in the box.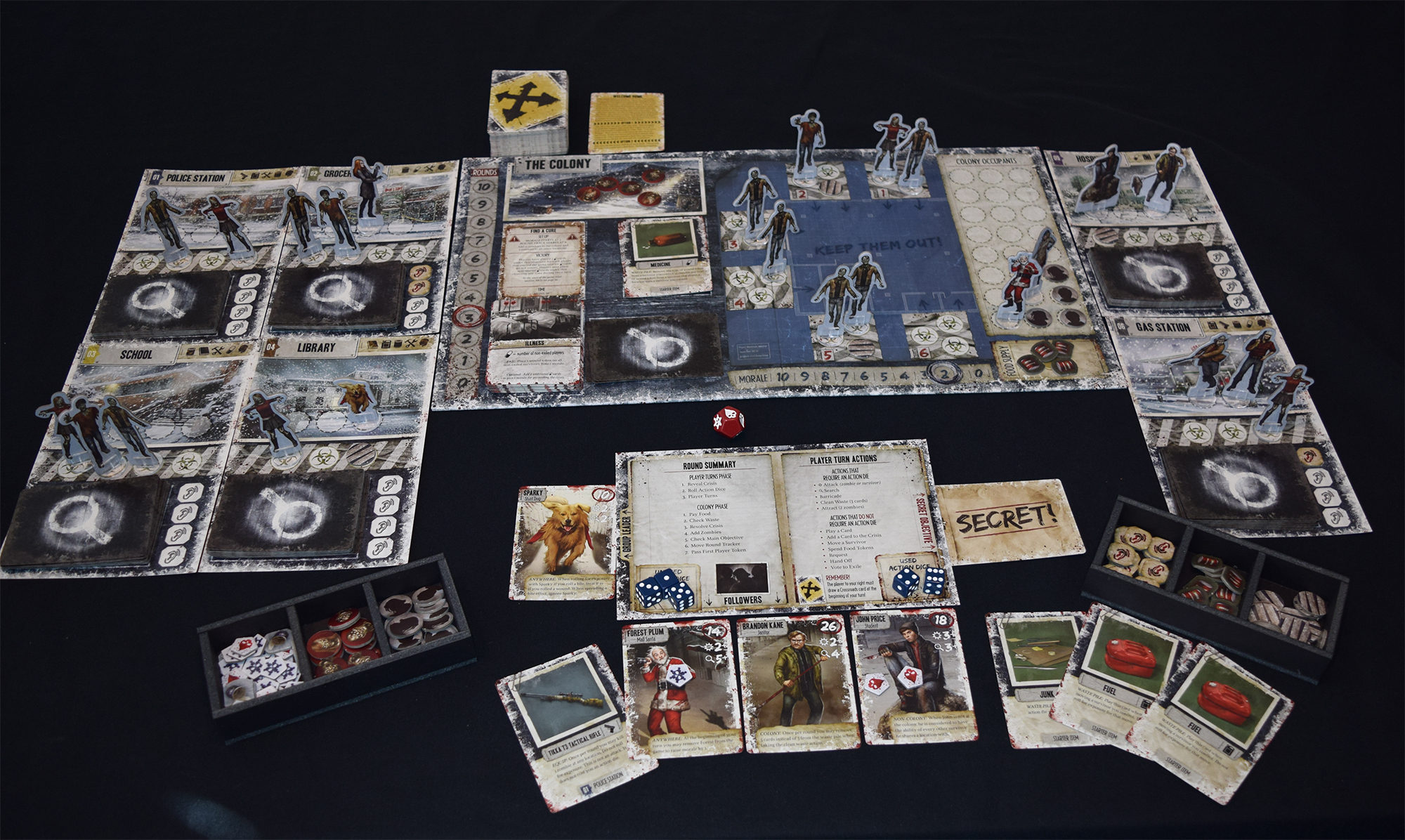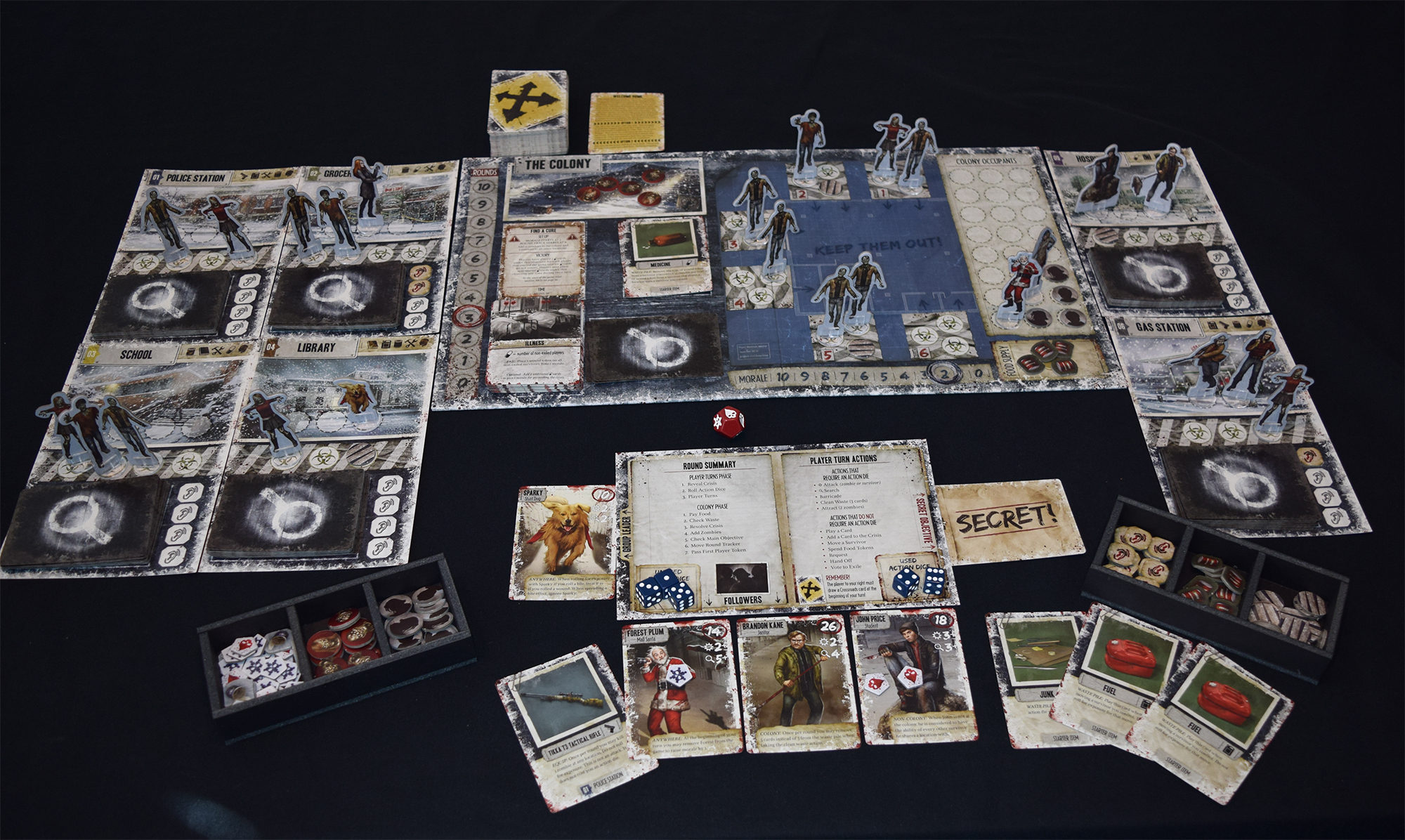 4. Arcadia Quest
From Cool Mini or Not, this dungeon brawler is worth the hefty price tag ($99 MSRP). The campaign, suited for four players, has you competing against others for glory as you attempt to reclaim Arcadia. But victory requires you to not only contest with some tough monsters, but also the other team's heroes. The result is a sort of polite clusterfuck of monster slaying and neighborly backstabbing.
There's a nice variety of champions to choose from, with some fun, cartoonish minis. But even if you select the same trio of champions to fight for you in Arcadia, every campaign plays out differently. You'll only play through half of the included scenarios in a campaign and the rewards you win and items you buy can completely alter your strategy. It's a very simple combat system (roll dice and compare successful attacks against your opponent's successful defenses), but has just enough depth to keep it interesting.
It will take 1-2 hours for each scenario, meaning that one campaign can stretch out over several gaming sessions. It has that feel of Descent or Heroquest (two of the more beloved dungeon crawlers around), but with some charming art and strong hooks to keep you playing.
3. Star Realms
I'm a sucker for deckbuilders. Star Realms might just have schooled them all. There's no particular innovation to Star Realms. Instead, it's an affordable game that's quick fun with just the right mix of strategy and randomness. Even with one standard deck, I've played Star Realms at least three times a week for about nine months. It's that good.
The two-player version has you and your opponent competing to destroy the other's "Authority" in the galaxy. It's basically a life meter (starting at 50), but since you don't play a single entity but a coalition made up of one-to-four factions calling it health doesn't make sense.
Anyway, your goal is to amass an army to destroy the person sitting across from you. Since most cards give a bonus ability or action if an identical faction is also in play, you're going to want to build your deck wisely. Do you want to go on the all out offensive? Then you want to start buying up ships and bases from the Machine Cult. But if you want cards that give money and restore Authority, the Trade Federation is the way to go.
Since the marketplace is drawn and refilled randomly, it's almost impossible to stick to just one faction. And, of course, your opponent is being a dick and taking cards you want all the time from the marketplace. Star Realms requires sudden and smart changes in strategy, a bit of luck, and some keen deckbuilding skills. At under $15, it's a no-brainer. You need this game. It's fantastic.
2. Five Tribes
I've slobbered all over Star Realms and yet that's only #3 on the list. So these next two must be incredible, right? Well, yes. Coming in at a close, close second is the phenomenal Five Tribes. A game that, ironically, only supports four players.
Many games have worker placement as a core gameplay principle, well, Five Tribes has worker displacement. The game board (a set of randomly placed tiles) starts with a trio of workers in each space. On your turn, you grab all the Meeples from one tile and then drop them on adjacent tiles until you drop the final Meeple. You then scoop up all the Meeples that match the color of the last Meeple you dropped, enacting that tribe's special power. With five different colored Meeples (five different tribes, you dig?) there are a number of options each round.
It doesn't sound like much, but in action, Five Tribes forces you to pay attention to every move. Whatever brilliant plan you've cooked up to score points, you can be assured someone else will screw it up by grabbing Meeples from the square you've been targeting in your mind all round.
There are a number of ways to score (buying powerful Djinn by sacrificing slaves, claiming tiles, diversifying at the market), but no single way will likely be enough to win. I've never played a game of Five Tribes where the winner was someone who only focused and scored in one fashion. You have to dabble in a bit of everything and so does everyone else. And that's part of what makes Five Tribes such a great competitive game and easily one of the best of 2014.
1. Splendor
Splendor is high class. In a world of cheap cardboard tokens and mediocre art, Splendor offers weighty poker chips that feel good in your hands. And the art on these cards. Goodness. This is some of the best card art around. You're trying to earn the most victory point by claiming valuable gems and attracting snooty nobility to your side. This is a game unashamedly about riches and wonder, greed and opulence.
On your turn you can do one of three things. You can take gems from the bank (two of one color or three of different colors), buy one card, or reserve a card. The nobles dealt before the start of the game have requirements to join your side. One, for example, might be on the lookout for someone who possesses four diamonds and four rubies. The first person to collect those sets of cards wins the noble (and her valuable victory points). The first to 15 VP wins. And that's all there really is to it.
It's rare to find a game this easy to teach that ends up being infinitely replayable. Everyone has a similar strategy. You need to build up your cache of cheaper, less valuable gems in order to afford the more lucrative gems. But the constantly shifting marketplace and limited supply from the bank can trip up even the best thought-out plans.
Splendor ends up at #1 because it's not a game you have to "be in the mood to play." It's always good. It always works. No one is ever left upset that they spent 30 minutes with this treasure of a game. Of all the 2014 releases I've played, this is the one that has a chance to be a Carcassone or Catan one day. Ten years from now, the chances that anyone is playing Dead of Winter, as fun as it might be, are pretty low. But Splendor has real staying power. It's a keeper that will likely still be great for many years.
Angry at how wrong I was with my list of five games? Do better! Post your top 5 list in the comments below