New York can't catch a break. Every day another malicious Mastermind pops up looking to hatch a scheme that puts the city (and sometimes the world) in danger. Your job is to work with your fellow players to build teams featuring Marvel's stupendous superheroes to stop the Mastermind and his cadre of villains from carrying out their plans (and carrying off innocent bystanders).
Though you win and lose Marvel Legendary as a team, there's still a chance for an overall victor. It comes down to which player was most heroic and waylaid the Mastermind's plans best (thus earning the most Victory Points). Of course, if the Mastermind succeeds, everyone loses. And that's a very real possibility, because depending on the Mastermind, the Scheme, and the group of villains chosen, Legendary can be one of the tougher co-op games to beat. But you're a superhero right? So this should be a snap.
MY STATS
Times Played: 20+
Likelihood of Beating the Mastermind: 60%
Most Often Played With: 2-player
Expansions Owned: Marvel Legendary: Dark City, Legendary: Fantastic Four, Legendary: Paint the Town Red
MY BIAS
I love deck-building games, co-op games, and comic books. So consider that this is really in my wheelhouse, that all things are set up for me to love this game.
PLAYING LEGENDARY
Draw cards

Add villain to the board

Buy cards

Attack enemies or the Mastermind

Save bystanders kidnapped by bad guys

Scheme Twist and Master Strike cards add complications, increase stress level

Four strikes vs. the Mastermind wins the game
Want to learn how it plays and all the intricacies? Rodney from Watch It Played will teach you:
IT'S SORT OF LIKE…
Dominion with more text + enemies + Spider-Man!
MOST FUN WHEN…
Only a few cards in the hero deck remain, the Mastermind could achieve his goal within the next few turns, and you feel like it's a 50/50 shot you can pull out the victory.
WANTED TO FLIP THE TABLE WHEN…
I drew all resource cards near the endgame when all I want is to attack, attack, attack.
PRODUCTION QUALITY
The good news is that unlike the rather flaccid DC Comics Deck-Building Game, there's actually a lot of good and varied art in Legendary. The bad news, though, is that the text on cards is often hard to read and the symbols that showcase the card type often seem pulled out of the mind of Stan Lee's third cousin and can be tough for new players to grasp. The board is of great quality. One of the nicest boards in a deck-building game.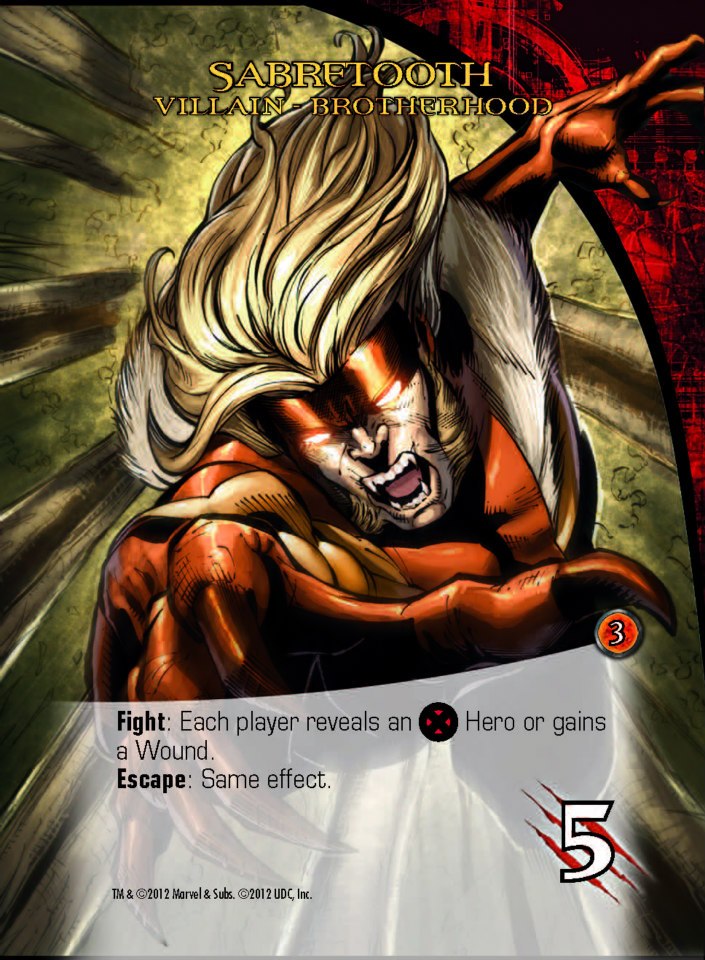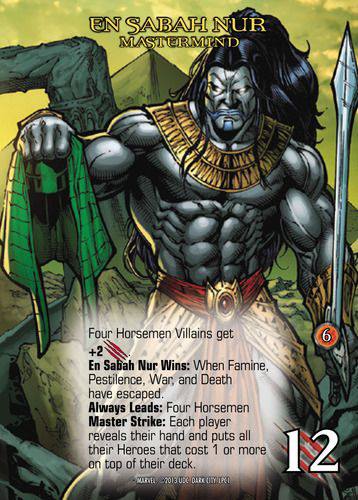 LEARNING CURVE
Core concepts are easy to grasp, especially if you've played other deck-building games. Keywords and lots of text-heavy cards can be tougher on more casual gamers and the concept of combos (play a card of X type first to earn listed bonus on the next card) can elude some players even after several go 'rounds. The pace of early games can be pretty slow and not everyone will pick up on the crucial need for knocking out (removing from your deck) weaker cards you have at the start of the game. Definitely a "next step" game to learn after mastering Dominion, Lords of Waterdeep, and Settlers of Catan.
CAN YOU PLAY THIS GAME DRUNK?
Fun factor nose-dives quickly with each beer. Sorry, True Believer!
WORTH EXPANDING?
To date, there are four expansions for Legendary (plus a stand-alone Villains edition). If you play the core set enough times, you'll run out of different Mastermind Schemes soon enough and perhaps get tired of the same small crop of heroes. Each expansion has been great, and any of them are good to add after you've played Legendary enough to know it's going to be part of your regular rotation.
Dark City: is the most significant with 350 cards, more than a dozen new heroes, and intros a new type of Bystander who provide bonuses when saved. Get this and you really won't need to expand for a while. However, this is my least favorite of the expansions. Only because the others have better, more interesting Masterminds.
Fantastic 4: Galactus is a nigh-impossible Mastermind to defeat. This is an epic challenge. He EATS THE BOARD. Love losing to this guy. Special rules requirement: Saying "Om nom nom" whenever Galactus destroys another part of the city.
Paint the Town Red: A Spider-Man focused expansion that's perfect for any fan of ol' Webhead. Mysterio is my favorite of all the Masterminds in the core or expansions, as he creates illusionary versions of himself as you play, increasing the number of times you have to beat him to win. He gets bonus points for being able to wear a fishbowl helmet and still be considered a "Mastermind."
Guardians of the Galaxy: Bringing some galactic flavor to Legendary, this is a solid expansion for those wanting to draft Rocket Raccoon and Groot onto their team.
Villains: This stand-alone flips the table on the heroes. Now the bad guys are the ones in charge, and those pesky do-gooders are standing in the way of your plans. The best thing about this set is the nice playmat, which is a considerable upgrade from the original Legendary's board. You can mix and match with the heroic versions of Legendary if you want some unusual team-ups.
THREE BEST THINGS
Nails the feel of Marvel heroes going toe-to-toe to stop a Mastermind and his minions.

Easy to learn and fun from the get-go.

Mastermind Schemes are straight from the comics and satisfy my most inner nerd.
THREE WORST THINGS
Difficulty varies wildly based on set-up, but no easy way to know which combination of Mastermind, Scheme, and villains will be easy or hard.

Each expansion adds new keywords, which are never re-used.

How hard is it to put a white box behind your text?!
HOW LONG WOULD THE HOUSE HAVE TO BE ON FIRE BEFORE I STOPPED PLAY?
Fifteen minutes.
GET THIS IF
You like being eaten by Galactus

You have to own all comic-book board games

You want something more intense than Dominion, but more beatable than Lord of the Rings: The Card Game
Questions about Legendary: Marvel Deck Building? Ask in the comments. Played Legendary and have your own opinion? Tell us! We may feature you in the Dog and Thimble Podcast.