Heroclix has been part of the board game landscape for more than a decade and I've never touched a figure until last week. I'm glad I finally gave in. I love this game.
So Many Figs
The first daunting task I faced when trying to become a member of the Heroclix legion was trying to wrap my head around all of the Marvel and DC Comics figures already released. There are thousands. The Pokemon trainer in me wants to collect them all, but that would be just about impossible. And unnecessary. That's the first thing you must accept stepping into the world of Heroclix for the first time.
"You're going to get figs – lots of figs – but you won't have them all, and that's okay." That was my mantra going in. I'm starting to accept it.
You can start by ignoring any sets more than a few years old. Wizkids updates the rules for Heroclix every year and improves the figs as well, making some of the older ones less-than-optimal for current play. If you set a mental cutoff point, say the past four years, it also narrows down your choices considerably. Don't worry, you and I will still have plenty to spend our dollah bills on.
Online Bargain Bins
Your best bet is eBay coupled with a site like Miniature Market. For eBay, look for affordable grab bags that give you a large lot of figures (look for a minimum of 50). Make sure that they promise no duplicates and that the majority of figs come with cards. I managed to snag a lot of 200 unique figures from the past four years, all with cards, for under $100. That included a handful of rares and pretty much locked in my starting collection with a satisfying assortment.
Then you want to use Miniature Marketplace or Cool Mini or Not to buy five or so characters you "must have." Not for their powers – don't worry at all about potency or min/maxing yet – but because these are the comic-book characters you love. I knew I needed Deadpool, Lockheed and Kitty Pryde, Deathstroke, and the Flash. As long as you avoid diving into super rares, you can often find your favorites and get out for under 20 bucks.
This was enough to satisfy me.
...Until I tried to play and learned I was missing something critical. Something Wizkids does a shitty job supplying for new users.
For Starters...
I'm a self-reliant kind of guy. I don't want to be dependent on others for any gaming needs. And that meant that in order to play Heroclix, I'd need maps to play on, a card explaining all the powers (you seriously cannot play without this), a few six-sided dice (easy!), some counters to represent actions taken/items on the map, and the rules (which you can find on Wizkid's site).
All of these things are nicely included in Heroclix starter sets. These are not to be confused with Fast Forces packs, which are like starter sets but without everything you need. Here's the catch – Starter sets are hard to find! I got a ton of great deals on grab bag Heroclix and individual figs, but I got completely hosed finding a starter pack. I had to settle for a Captain America movie starter set (meh) at nearly double the retail price. Just so I had everything needed to play with all the other stuff I'd bought.
This is by far the most frustrating thing about starting up with Heroclix. Wizkids does not make it easy on you. Starter sets should be overflowing shelves, making it easy for new people to get into this "holy shit I wanna spend all my money on all the things" hobby.
Once you have a starter set and those figs, well, you're ready to read the rulebook.
Or…
Just watch some how to play videos. Here's a good one. These are much easy to digest and understand than digging through the rules, which are partially written in an alien language only someone native to the land of Heroclix could understand. Noticing the theme here: This game doesn't want new players. It's your job to push through this and earn your spot as one of the Heroclix elite.
Powers simplified
What tripped my up the first time I played Heroclix had nothing to do with moving around the map, figuring out line of sight, or how the wonderfully tactile clix mechanic works. What got me were the powers, which, when seen for the first time after 10+ years of iteration and additions, is confusing as hell. But once it, uh, clicked, it was a breeze. So I'm going to save you some time and head scratching and simplify Heroclix's power system for you.
There are four power types in Heroclix:
Within each type there are twelve different possible powers, plus "Special" powers unique to the character and explained on his card. On the dial, you have stats for speed, damage, attack, and defense. Coincidence? Hardly!
When you see green for the power next to your speed, it is always going to be Charge. Charge acts the same no matter which character has it, no matter the "flavor" name next to it on the card. The handy reference sheet that comes with starter sets explains each standard power in detail.
Some character cards have a + on them, meaning these are traits that are always available. The color code and symbols for these are explained on that oh-so-necessary reference card from the starter set. And some characters have team-up abilities, which are best ignored until you have solid handle on the core gameplay.
Advice for Your First Game
Diving into your first game of Heroclix can be a lot like losing your virginity. There's a ton of rules to remember, you're probably going to get surprised from behind by Mirror Master, and you're going to click down faster than expected. Don't worry, this is just the first of many wonderful experiences with Heroclix.
My tips for your first game:
Play a two-player game (don't get suckered into a four-player clusterfight yet)
Don't use the elevation rules
Start with a 150-point power pool (as opposed to the standard 300)
Follow these guidelines and you will have less to keep track of and can more easily grasp the core rules. Each time you play, ignore one of the above guidelines to enhance and add some complexity to Heroclix. In a few short games, you'll be able to handle pretty much any situation that arises.
Feed My Addiction
Still on the fence about Heroclix? Here, let me destroy your bank account by convincing you to follow on my path to addiction. I love comics. Love comics. And Heroclix captures some of the nostalgia of comics in a way few other games ever have. Bizarro's a great example. He has powers such as "Weakling" and "Retreat" which might sound shitty at first, but think about it – this is Bizarro. So these act as Super Strength and Charge. The "flavor" names of commonly shared powers as well as the unique powers for characters seem spot on.
As your characters take damage, you click down revealing new offensive and defensive attributes and new powers. Some characters become more defensive as they're wounded, but others get aggressive, perhaps even desperate, with their power sets. It's great to discover these powers with each character as you do battle.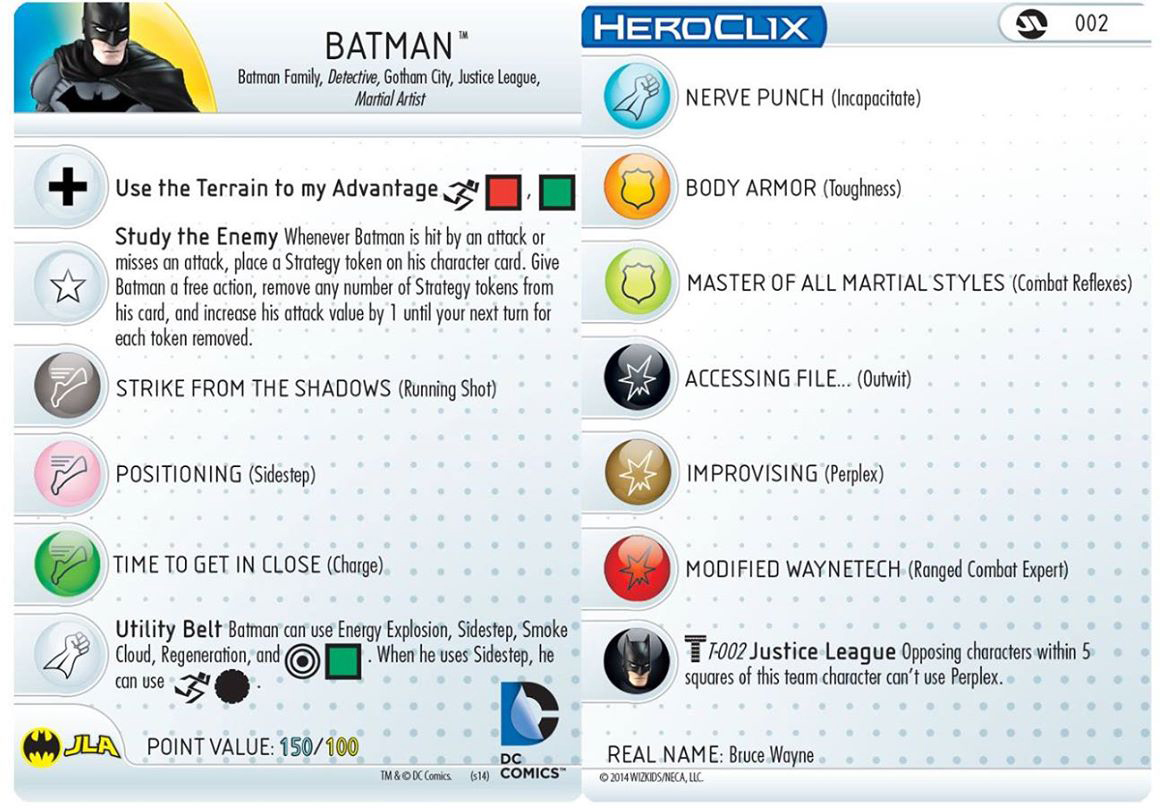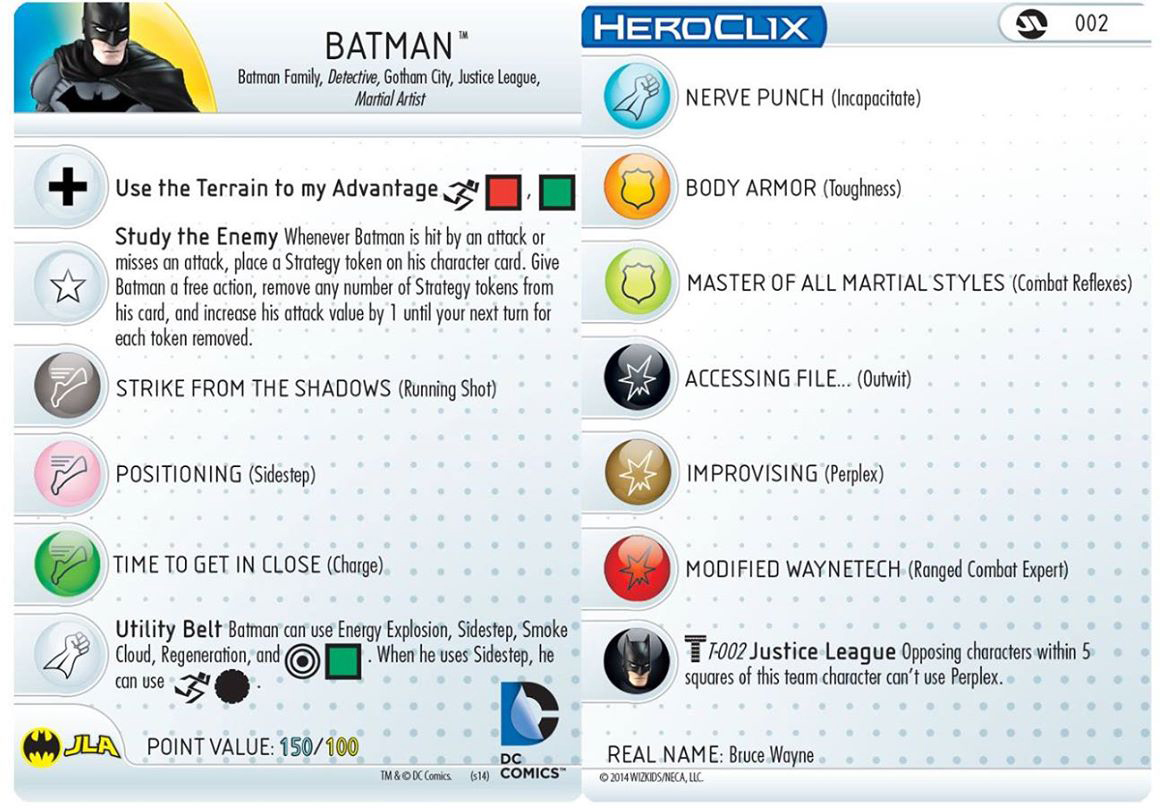 Heroclix never appealed to me in the past. It looked like a very light, gimmicky miniatures game. I was wrong. Heroclix has depth and it's such a great experience for true believers. There is a learning curve and some challenges to start your collection, but I've found that it's been worth pushing through.
Are you a Heroclix player or interested in Clix? Post in the comments and give us your thoughts.